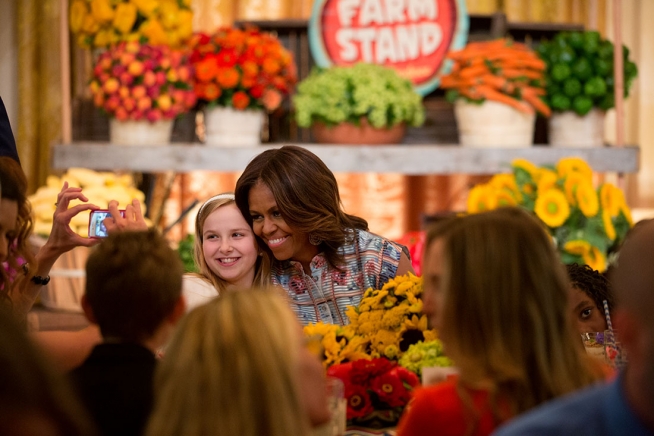 First Lady Michelle Obama Recognizes Michigan Creative Youth Development Program at the White House
12 U.S. Programs, 2 from Michigan, within the Field of Creative Youth Development, Receive Awards
For the eighth and final time, First Lady Michelle Obama invited the 12 winners of the National Arts and Humanities Youth Program Award to the White House on November 15th, to recognize their programs' effectiveness in developing young people's learning and life skills by engaging them in the arts or humanities. Among the 12 awardees are two organizations from Michigan – West Michigan Center for Arts + Technology (WMCAT) and Sphinx Organization.
The 2 Michigan community-based organizations from across the country were chosen from a pool of 251 nominations and 50 finalists to receive the highest honor awarded to such programs in the United States.
The awardees were recognized by Mrs. Obama for using engagement in the arts and the humanities to generate a wide range of positive outcomes, including increases in academic achievement; growth in graduation and college enrollment rates; and improvements in literacy and language abilities, communication and performance skills, and cultural awareness.
First Lady Michelle Obama recognized WMCAT for its Teen Arts + Tech Program, which is a best practice, out-of-school time experience that engages high school students in the practical application of design thinking through hands-on learning in arts and tech labs.
Award Details: First presented in 1998, the National Arts and Humanities Youth Program Award is the signature program of the President's Committee on the Arts and the Humanities (PCAH). The awards are presented annually in partnership with the National Endowment for the Arts (NEA), the National Endowment for the Humanities (NEH), and the Institute of Museum and Library Services (IMLS).
Speakers included: First Lady Michelle Obama, PCAH Honorary Chairman, PCAH Co-Chairmen George Stevens Jr. and Margo Lion, and PCAH Vice-Chairman Mary Schmidt Campbell.
(Official White House Photo by Amanda Lucidon)
About WMCAT:
WMCAT is a non-profit organization whose mission is to provide a culture of opportunity for people to create social and economic progress in their lives and community. Through after-school and summer arts and technology programs, WMCAT engages high school students in creativity and civic engagement. WMCAT also provides career training in medical coding, medical billing and pharmacy technician fields to under and unemployed adults. Learn more at www.wmcat.org